Misinformation Monitor: February 2020
Welcome back to NewsGuard's Misinformation Monitor, a newsletter tracking misinformation with exclusive data from five countries. NewsGuard provides a human solution to misinformation by rating the reliability of news and information sites. Our ratings, based on nine objective journalistic criteria, give each website a score from zero to 100 — along with a corresponding Green (generally reliable) or Red (generally unreliable) shield — and give people more context for what they read online. Sign up to get the Misinformation Monitor in your inbox or download NewsGuard for your browser.

by Gabby Deutch
---
The big story… New data shows stunning popularity of misinformation sites on social media
---
But First the Quiz:
1. Which advertiser provides the most financial support to Vladimir Putin's disinformation machine?
a) Blue Cross Blue Shield
b) Disney
c) General Motors
d) Nordstrom
2. Which European country has the highest percentage of Red (meaning generally unreliable) websites?
a) United Kingdom
b) Germany
c) France
d) Italy
3. Which of these political news sites receives the most engagement online?
a) DailyWire.com
b) Politico.com
c) AmericanIndependent.com
Read to the end of the next section for the answers.
---
The RED INDEX: More than 1 in 10 interactions with news on Twitter and Facebook happened on stories from unreliable sites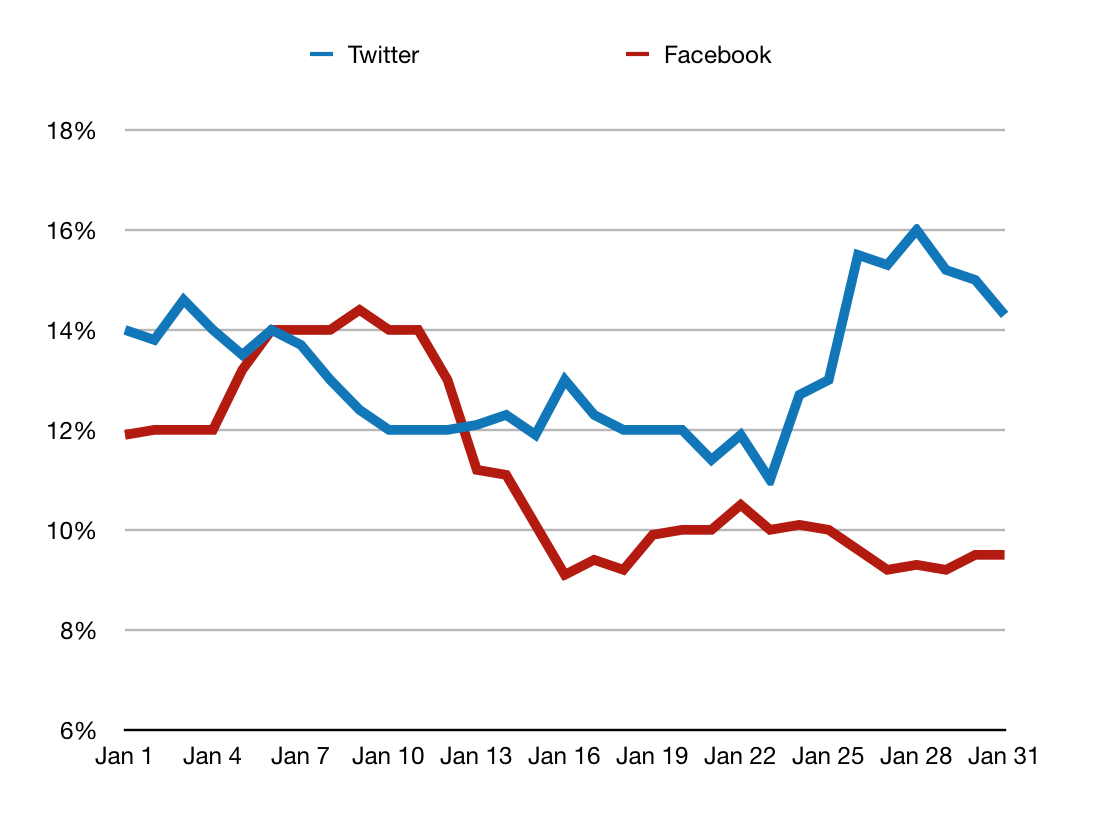 Misinformation sites received more than 10% of all likes, shares, and comments on Twitter and Facebook in January. Tracking what University of Michigan researchers call the "Iffy Quotient" — the percentage of engagement on social media with links from English-language iffy sites, meaning sites NewsGuard has rated Red (meaning they don't meet basic standards of credibility and transparency) — shows that on average, 12.2% of all engagement with English-language news across the two largest social media platforms happened on links to these unreliable sites.
Twitter tops Facebook with more sharing of misinformation in January
11.2% of links shared on Twitter each day in January came from iffy sites. Compare that to 8.6%, on average, on Facebook.
It's not just that there's more misinformation on Twitter. It's a different kind, too, with more coming from right-leaning U.S. political sites than anywhere else. Among sites that were shared often on Twitter but not Facebook, stories from Gateway Pundit — which has promoted made-up stories about Christine Blasey Ford and the survivors of the February 2018 school shooting in Parkland, Florida — beat out any other outlet.
Breaking it down: The problem runs deeper than people sharing stories from sketchy sites. Iffy sites garner disproportionate engagement — comments, likes, and shares — compared to posts from reliable sites. While 11.2% of stories shared on Twitter last month on an average day came from iffy sites, these sites accounted for 13.2% of engagement on the platform, meaning the sketchy stuff is shared more often. On Facebook, an average of 8.6% of stories shared came from iffy sites — with 11.2% of engagement on Facebook coming from iffy sites.
Why we should care: Although the social media giants keep unveiling new measures meant to take on misinformation, it's hard to argue that they are working if these sites maintain disproportionate popularity.
---
Get the Newsletter:
Sign up to get the Misinformation Monitor in your inbox:
---
Quiz Answers:
Question 1: (d) Over the past three months, American clothing retailer Nordstrom was the top programmatic advertiser on SputnikNews.com, beating other American companies including Blue Cross Blue Shield, Disney, and General Motors, all of which also advertised on the Russian propaganda site.
Question 2: (c) At 23%, France has the highest percentage of Red sites among the European countries where NewsGuard operates. Germany (13.2%), Italy (12.6%), and the U.K. (13.9%) are about equal. None of these — not even France — comes close to the U.S., where 36% of sites are generally unreliable.
Question 3: (a) The Red-rated Daily Wire, a site founded by conservative commentator Ben Shapiro that distorts facts to advance a partisan agenda surpasses the other sites. In January, it had 5.5 times the engagement of Politico, and 7.2 times the engagement of AmericanIndependent.com, a popular left-leaning site that NewsGuard rated Red and which is owned by Democratic operative David Brock. (Read our nutrition labels of DailyWire.com and AmericanIndependent.com.)
---
The all-American companies subsidizing Russian propaganda and dangerous health misinformation
Major companies including Amazon, Walmart, Google, and Berkshire Hathaway's Geico are subsidizing some of the Internet's sketchiest, even dangerous content — including Russian state-sponsored disinformation and healthcare hoax sites.
In three of the five countries where NewsGuard operates, the Red sites that regularly publish false content and had the most engagement in 2019 are the same ones we highlighted in November. How do they compare to well-respected news sites in the same country?
Breaking it down: Google has promised to clamp down on misinformation in search results. But Google was the second largest advertiser over the last three months on HealthyFoodHouse.com, a "health and wellness" website that has published health misinformation including the bogus claim that elderberry syrup is better at preventing the flu than the flu shot. The site's top five advertisers also included Berkshire Hathaway's Geico, Amazon, and the popular clothing brand Madewell.

Putin's propaganda machine runs on American dollars, too. Sputnik's top two advertisers over the last three months were Nordstrom and Best Buy; for RT, top advertisers included Progressive Insurance and United Airlines.

Why it matters: Companies almost certainly aren't choosing to place their programmatic advertising on unreliable sites. But when they opt to place ads through an algorithm, without judgment about those sites' journalistic standards, they put their own credibility at risk, NewsGuard co-CEO Gordon Crovitz wrote in the New York Times.
---
Point Scores: The good, the bad, and the ugly
Month after month, CNN.com receives more engagement on social media than any other news site in the U.S. FoxNews.com is a close second. The three that usually round out the top five are NBCNews.com, NYTimes.com, and WashingtonPost.com. But only those final three receive a perfect score of 100 from NewsGuard, meaning they pass all nine of our credibility and transparency criteria.
Breaking it down: It might not surprise you to learn that the websites of cable giants CNN and Fox News sometimes blur the lines between news and opinion, which is why they fell short in NewsGuard's point scores. But some of the most trusted names in news also miss the mark in surprising ways.

Reuters, the award-winning news company that serves readers in over 100 countries, scores a 95 because most stories on the site don't include bylines. The same goes for the Associated Press.
ESPN misses the mark for providing only limited details about its ownership in a hard-to-find section.
News sites' standards differ by country, too: In France, many of the sites with perfect scores are local news organizations, and two of the most well-known publishers — Le Monde and Le Figaro — didn't make the cut. The number of sites with a perfect score varies widely. Take a look:
Germany: 29.56%
U.K.: 27.32%
U.S.: 25.32%
France: 8.41%
Italy: 6.67%
But sites can be generally reliable and still miss out on one of our criteria. In fact, the country with the highest percentage of Green sites (meaning sites that meet basic standards of credibility and transparency) is Italy — 86.9% are generally reliable, compared to only 65.0% in the U.S.
---
Election Watch: Is it local journalism, or just local propaganda?
A new kind of misinformation is set to have a nationwide impact on this year's political process: political propaganda passed off as local news.
The liberal dark-money group Acronym — which also invested heavily in Shadow Inc., the tech company behind the failed Iowa caucus reporting app — aims to reshape the digital media ecosystem by taking advantage of Americans' trust in local journalism.

The group is investing millions in a site called Courier Newsroom and affiliates in six battleground states. Courier has a strategic niche: pumping up moderate Democrats elected to Congress in 2018 in Republican-leaning districts. Then the site spends hundreds of thousands of dollars on targeted Facebook ads to make sure constituents see these flowery, criticism-free stories about their representatives.
Courier claims its goal is fighting misinformation. But the solution to political misinformation is not a different, more tech-savvy form of political misinformation, NewsGuard's Washington correspondent Gabby Deutch wrote in the Washington Post

Courier isn't the only organization that sees local news as the next frontier for partisan propaganda. A conservative network founded by tea party activists has sites called TheMichiganStar.com and TennesseeStar.com. States Newsroom, a network with sites in 15 states, was launched with the backing of the Hopewell Fund, another liberal dark-money group.
---
How reliable news sites in the U.S. and Europe helped spread conspiracy theories about the Wuhan coronavirus
Italian journalist Paolo Liguori published a mysterious video op-ed last month on the TV network Tgcom24 saying that an "anonymous source" had told him that the Wuhan coronavirus was "engineered in a military laboratory where experiments were carried out to modify the SARS virus for war purposes." He offered no evidence in advancing this conspiracy theory about the virus's origins that has been disputed by American fact-checking website PolitiFact and the French Health Ministry's Health General Directorate.
The theory that the virus originated in a Chinese military lab gained credibility from a report in the U.S. newspaper the Washington Times. The paper's only evidence was a vague quote from a former Israeli intelligence official, who claimed that a Wuhan military lab that studies pathogens might be linked to the country's biological weapons program and thus might have sinister motives. The article's conclusion — that this virus was engineered by the lab's researchers — is unfounded.
But that hasn't stopped this dangerous theory from crossing international borders. After Liguori's report, the far-right French-language site FL24.net picked up the story. Many French social media users eagerly followed suit. It is no surprise that this conspiracy theory was met with such enthusiasm in France: the high-security Wuhan laboratory at the heart of the conspiracy theory was created in collaboration with French institutions.
---
Hard Calls: When an advertisement is not an advertisement
When ads don't look like ads, and look simply like additional content, sites are luring readers to the advertisement. One of NewsGuard's nine criteria – "clearly labels advertising" – seems simple. But publishers find ways to label ads that are far from clear.
Sites keep coming up with new ways to hide that content was paid for by an advertiser, not produced by the site's editorial team.
On TMZ.com, one of the most heavily trafficked sites in the U.S., ads are deceptively labeled "Around The Web" and "You Might Like."
AOL.com publishes paid content under "More to Explore" and "From Our Partners."
NewsGuard regularly sees ads described as "partner content," "in collaboration with," "presented by," and "in association with." None of these pass muster.
Consumers deserve to know whether they are reading commercial messages or real editorial content. NewsGuard has found that the way a site handles the labeling of ads is an indication of its overall standards — or lack thereof. Of sites that fail NewsGuard's advertising criteria, 65 percent are Red or generally unreliable.
So what constitutes clear labeling? NewsGuard's reporters opt to use common sense, considering how a typical news consumer will view this content. We are on guard for ambiguity.
Labeling content as "in collaboration with" a brand is not a clear signal of advertising, unless readers are Internet marketing insiders.
"Partner content" could refer to a "partnership" to produce content among editorial teams, not that one of the "partners" paid the other to publish promotional material.
"Sponsored" and "paid" are adequate disclosure.
There's one sure-shot way publishers could ensure they pass NewsGuard's criteria: They could call this stuff what it is. Advertising.
---
Download NewsGuard
Install our browser extension to see NewsGuard's shields in your search engine results and Facebook, Twitter, and LinkedIn feeds on your desktop browser.
---